Jump To:
If you're an Oregon resident, you are all too familiar with rainy days and torrential downpours. In the same way you keep your umbrella and rain boots handy, you can take measures to shield your garage door from the weather. Protecting your garage door from the elements is essential because rain has the potential to cause severe water damage.
This article will cover the effects of rain damage on garage doors, the tips you need to prevent rain damage on garage doors in Oregon and who to contact to repair rain damage on garage doors in Oregon. Keep reading to ensure your garage door stays in pristine condition this rainy season.
Can Rain Damage Garage Doors?
Anyone who lives in Oregon knows rain is a regular part of life. Unfortunately, rain and your garage door typically do not mix well. Too much rain can result in water damage, leaking and flooding, which can also harm your garage's interior and its contents.
In particular, rain can cause considerable damage to your garage door if you have a wood door. Increased moisture can make the frame surrounding a wooden garage door swell, decreasing the clearance between the frame and the door. When the distance between a garage door and its frame closes, the door can begin to rub against the frame and potentially become stuck in place. 
Rain can also cause other sorts of water damage to wooden garage doors, such as warping their panels or causing the wood to rot. Excessive rain can also affect metal doors. After extended exposure to rainwater, metal garage doors will start to rust and deteriorate. The hinges and other metal components of a wooden garage door are also prone to rust.
How Does Water Affect My Garage Door?
If you have a wooden garage door, rainwater can affect it in a few specific ways. Being aware of these issues can help you spot them before they escalate. After extensive periods of rain, make sure you check your garage door for signs of damage and maintenance needs.
Learn to recognize these main three effects of rain damage on garage doors.
Increased weight: When wooden garage doors soak up rainwater and get damaged by wear, they become increasingly heavier than they were at their initial installation. This excess weight puts a strain on your garage door opener, which may damage the system. Pay attention to whether your garage door seems to be creaking and struggling more to open.
Freezing: If the temperature drops below freezing, any rainwater that collects between the rubber seals of your wooden garage door and the floor may freeze. When this occurs, the garage door can freeze shut, preventing you from opening your garage door until the ice melts. Even once the ice melts, watch out for any water collecting underneath your garage door, which may cause further damage.
Warp: Warped panels are one of the primary issues rainwater causes in wooden garage doors because they impact the door's ability to function. Once one panel warps or changes size, the other panels no longer align, which throws off the entire door's operation. A warped garage door will not open and close correctly, making it a safety hazard. If you notice your garage door beginning to buckle, it most likely has become warped.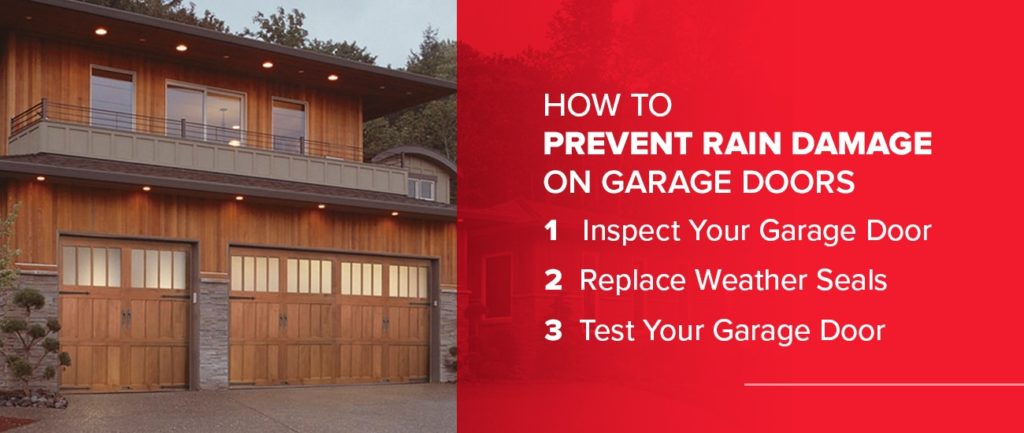 How to Prevent Rain Damage on Garage Doors
You may not be able to avoid rainwater, but you can take specific steps to protect your garage door from water damage. Follow these steps for preparing garage doors for the rainy season.
1. Inspect Your Garage Door
Begin by checking your garage door for possible issues, such as holes, dents, cracks and warping. Repairing any problems that you notice with your garage door while inspecting it will help you avoid more significant issues due to rain damage. 
Be sure to pay special attention to these three components.
Appearance: Visually inspect your garage door to locate any cracks or dents you may need to fix.
Seals: Ensure the seals are tight and there are no gaps between the door and the ground where rainwater could get in.
Operation: If your garage door is not functioning smoothly and quietly, there may be more extensive issues to address.
2. Replace Weather Seals
The weather seals create a tight seal between the bottom of your garage door and the ground, which helps prevent minor flooding and rainwater damage. However, repeated use and friction can degrade the weather seals over time. If you notice any rips, cracks or failing adhesives on your garage door, contact a local expert to receive the correct replacement parts.
3. Test Your Garage Door
In times of extreme rain, perform a quick safety test to make sure your garage door is operating correctly despite the storms. These safety tests will check that your garage door's safety features are still working, which will help you and your family avoid any potentially dangerous situations.
Regularly test these two safety features.
Automatic reverse feature: Your garage door's ability to automatically reverse after sensing an object in its path is a crucial safety measure. Test that this feature is still working by placing something solid, such as a piece of wood, in the door's closing path before closing the garage door. The door should reverse once it reaches the item.
Photo-eye sensors: To function properly, your garage door's photo-eye sensors need to be in alignment. To test this, look for the light on one of the devices indicating it's in line with the other sensor. Then, close the garage door and move a broom or similar object through the sensors' sightline. If the sensors are working, the garage door should begin reversing.
How to Protect Garage Doors From Flooding
Some garage doors may be more susceptible to increased water flow because of the house's orientation, which can lead to flooding. Fortunately, there are a few ways you can protect your garage door from flooding in times of extreme rain.
Install drainage: You can significantly lower the chances of flooding by installing a trench drain. Create a trench in front of your garage to divert rainwater by cutting a channel from one side of the driveway to the other, then laying a U-shaped steel or PVC pipe and covering it with a steel grate. This drain will redirect rainwater into your main sewer line before it can build up in your garage.
Install a threshold seal: This weather seal is a thick rubber strip that attaches to the garage floor instead of the garage door itself. A threshold seal can effectively keep water from flowing into your garage, but you may still need a drain to sweep the water away.
Invest in a new garage door: The most reliable way to prepare your garage door for the rainy season is to get a new garage door that rates well for withstanding extreme weather and flooding.
Contact Valley Overhead Door for Garage Door Services and New Garage Doors
Valley Overhead Door knows how to prepare garage doors for the rainy season in Oregon. With more than 20 years of experience serving members of the Albany, Ore., community and surrounding areas, we have the necessary expertise to protect your garage door from rainwater and flooding. We offer friendly, professional service to repair rain damage on your garage door or install a new one.
To learn more about how to keep your garage door safe from water damage or schedule a service appointment, contact Valley Overhead Door today.